Peneda-Gerês National Park
Visit and discover step by step!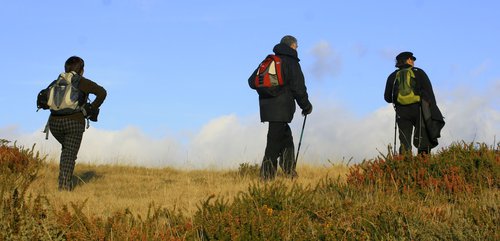 GR50 – Peneda-Gerês Long Distance Path

---
Discover the National Park through the GR50.
Truly motivated by the culture and way of life of the communities that have long inhabited this area, the Peneda-Gerês Path reveals Roman roads and medieval pavements; paths used for seasonal transhumance between summer and winter settlements; old tracks traveled by herdsmen to upland meadows; routes followed by pilgrims leading to places of worship; smuggling routes along which goods and people passed clandestinely, among many other paths and routes.
Throughout its length there are plenty of opportunities to get to know the rich historical and archaeological heritage of the National Park, to live with the traditions and culture of the communities that inhabit these mountains and to enjoy local flavours. Stage by stage follow on features of natural interest, among which the oak forests are outstanding, true sanctuaries of biodiversity, where various floral and faunal species characteristic of the National Park find shelter. At the highest levels the Path follows along the sides of the mountains and reaches summits where the peace and tranquility of the mountains can be appreciated.
A new experience is gained on each walk. Each season brings a fresh encounter, almost as though it were a completely different route.
Linking the five municipalities that form the Peneda-Gerês National Park protected area, this Long Distance Path is a linear route arranged in 19 contiguous stages that start in, or are very close to, villages/towns where there are support services, including amongst others accommodation, grocery stores and restaurants. Within its 200 kilometer length, it includes both longer and relatively short stages, following rural, agricultural and forest paths, through valleys, riversides and mountains, which means that each stage has a different level of difficulty. Waymarking is arranged so that the route can be followed in either direction, from stage 1 (starting at Ameijoeira) to 19 (ending in Tourém) or from stage 19 to 1. The route can be followed all year round, but spring and autumn are the periods that provide the richest experiences.
With a total length of about 200 kilometers, broken down into 19 stages, the GR 50 - Peneda-Gerês Long Distance Path traverses the Peneda-Gerês National Park, from Ameijoeira, in Castro Laboreiro, in the extreme northwest, to Tourém, in the northeast limits.
The route is highly diverse, varying between predominantly rural roads, old stone pavements and other ancient ways and grazing tracks passing through areas where nature and the tranquility of mountains prevail.